EXPLORING THE CITY OF BOSTON ALONG WITH A SCENIC DRIVE TO​ BAR HARBOR MAINE

This trip combines the fun of being in the great city of Boston with a scenic road trip up the Maine coast as far north as Bar Harbor. Spend some time exploring all that the wonderful city of Boston has to offer before heading to Maine. In the summer, the streets come alive. On weekends, there are many street performers, especially in the area around Faneuil Hall. There is so much history in Boston, and kids love following the red brick Freedom Trail as you walk to various sites, including the Old North Church and the Copp's Hill Burying Ground.

This post was updated January 2018.
We love visiting Boston, and were fortunate to have family that lived in the historic North End for many years. One of the special things that my late Uncle Arthur shared with us was his love for feasts, but in particular the Saint Anthony's Feast. Every summer at the end of August, the streets are filled with table after table of Italian favorites, including cannoli, zeppole and arancini for an entire weekend. My uncle would spend weeks preparing his favorite Italian dishes, and as the Grand Procession walked by his house, he would feed hundreds of parade participants. The summer of 2019 brings the 100th annual feast, so be sure to check the

Saint Anthony's Feast website

for all the details. The North End is also home to many traditional Italian restaurants and pastry shops. There is always a line at Mike's Pastry on Hanover Street, but it is worth the short wait!

​
In addition to all the historical activities, other great ideas we recommend for families are riding the Swan Boats in Boston Public Garden, the Museum of Science, the famous Duck Tours and the New England Aquarium. For kids 12 and older who love science, take the subway over to the MIT Museum in Cambridge. There are some cool exhibits that you won't find in many other museums. While you are there, you can also visit the Harvard Museum of Natural Science. Of course, if you are a baseball fan, head out to historic Fenway Park to enjoy a game.

​
For a change of pace, after spending days in the city, take the ferry out to
Boston Harbor Islands National Park
. It's just a short ferryboat ride from Long Wharf in Boston. There is lots of open space for kids to run around and explore all there is to see. The ferries generally run from October to May.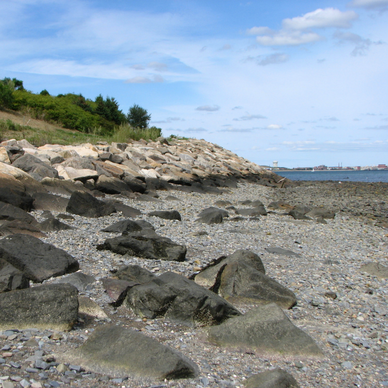 Once you have finished your time in Boston, head up north on I95 through New Hampshire into Maine. There are many small, New England towns to stop in along the way, including Kennebunkport and Kennebunk (look for the famous Wedding Cake House). Continue on to Freeport, where you can stop at the L.L. Bean Factory Store, as well as some of the other shops.
​
As you continue on 95/295, take Route 1, which brings you over to the coastal town of Boothbay Harbor. This is a great place to spend the night. We loved the peaceful Sprucewold Lodge, a cozy log cabin, tucked away in the woods. As of the last time I checked, the lodge was no longer operating, but you'll find plenty of options in town, including the Tugboat Inn right on the water.
The next day, break up the 3 hour drive to Bar Harbor by stopping at historic
Fort Knox
in Prospect, Maine. For a small fee, the kids can explore this historic fort, located on the banks of the Penobscot River. While the grounds are open all year, access to the fort is only available between May and October.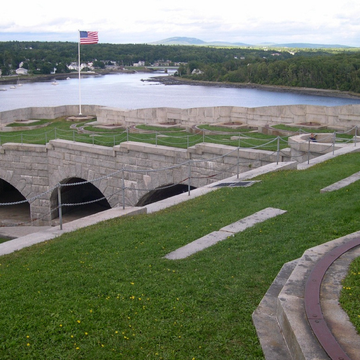 From Fort Knox, continue on to Bar Harbor, a great town with many activities to choose from. Of course, there are many choices for eating lobster and lobster rolls in this great town. If you want to learn more about the lobstering profession, jump on a tour boat right in the harbor. We choose to take a LuLu Lobster Boat Tour. The boat was small and it was a great way for the kids to learn about lobsters as they were pulled out of the water and to also see some of the local sea life!
​
You could easily spend several days in nearby
Acadia National Park
. Cadillac Mountain is the highest point on the east coast and offers spectacular sunrise views. The park has miles of carriage roads that are closed to car traffic, making it ideal for bike-riding. Sand Beach is a great place to visit, just remember that the ocean temperature is pretty chilly all summer. Be sure to stop at Jordan Pond House Restaurant to enjoy some of their famous popovers while sitting outside on the lawn and enjoying the view. There are lots of ranger-led programs as well, many of which are free. Another great way to involve the kids is to try out the EarthCache Program, searching for hidden clues while exploring Acadia. Be sure to read
Cool Things to Do Around Bar Harbor Maine
for more information ideas.
On either leg of the trip between Boston and Bar Harbor, stop at Red's Eats in Wiscasset, Maine for one of their highly acclaimed lobster rolls. If the line is too long, there is a nice place across the street. If you still need more lobster when you return to Boston, have lunch outside on the water at James Hook and Co. They have great lobster rolls.
Check out my other related posts below for more information about Boston and Maine.
Related Posts: