New York City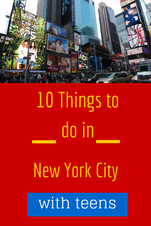 If you live on the east coast (especially the mid-Atlantic area or the Northeast), you have to take at least one family trip to New York City. There are so many activities that it is hard to know which ones to choose. Whether you are spending a weekend or longer, taking in a Broadway show should be first on your list, especially if you have "tweens" or teenagers (see my guest author post for Kidventurous by clicking on the "10 Things to do in New York City with teens".) If you have some flexibility with both your schedule and the show you want to see, you can always try to get half price tickets the day of the show, but this requires standing in line and waiting. However, for most people, buying tickets in advance is the way to go. Then you can plan your trip around the show schedule.
Regarding
accommodations
, everyone knows how expensive staying in New York City can be, particularly if you have more than two kids and can't fit into an average hotel room. If you are getting to NYC by car and don't mind a short, 10 mile drive into the city, there are many more family friendly options (think bigger rooms, free breakfast, pools, etc.) in places like East Rutherford, NJ. Remember, even if you stay in New York City, if you have a car, you often have to pay a daily rate for parking. Sometimes the parking garages in the city will offer a better deal if you arrive before a certain time in the late morning, and you can always take the subway around the city once you have parked for the day. If you just have to stay in the city, book early and look for special weekend deals. The Hilton in Times Square offers a great location close to the theater district. If you don't mind a small room, another convenient choice is the Econo Lodge on 47th Street.
There are so many
activities
in New York City it is hard to know where to begin. The hustle and bustle of the Times Square area is always a good place to start, especially with kids, or in the evening when everything is lit up. If the line is not too long, you can ride the Ferris Wheel inside the Toys "R" Us (http://www.toysrusinc.com/about-us/times-square/). Otherwise, kids of all ages love to just walk around the store and experience being a kid again! When we visited the city for several days, we picked the Empire State Building, NBC Studio Tour and Madame Tussauds for our big ticket tours. I think everyone really enjoyed the Studio Tour, and the views from the top of the Empire State Building are not to be missed. (If you can't handle the lines at the Empire State Building, consider going to the observation center at the "Top of the Rock" at Rockefeller Center.) If you are a fan of the Today Show, you must at least stop by outside of the NBC Studios in Rockefeller Center so you can try to get a glimpse through the glass windows. We were lucky enough to come by after much of the crowd had cleared out and were able to see some of the action inside the studio. Of course, we also spent a day visiting the Statue of Liberty and Ellis Island. Because we were staying in New Jersey, it was very easy to get to the ferry terminal at Liberty State Park and there was plenty of parking. You can easily spend the day at these two historic landmarks. Reservations for tickets to access the crown of the Statue have resumed, after being closed for renovations.
If you are a television and movie fan, you might consider a tour such as "On Location Tours." A bus takes you through the streets of the city, while a tour guide points out all the locations made famous by movies and television shows. At the same time, you will see clips from the movies, so that you can put it all together. We were lucky to have had an awesome tour guide named Scott who was able to share some of his recent experiences in the industry. Its great fun, and the locations range from Ghostbusters and Spiderman, to Men in Black and Breakfast at Tiffany's. See their website at
www.screentours.com
for more information about the different tours that are available. I would recommend this tour for teenagers of all ages and adults.
There are so many other places you can visit in the city but one of our favorites (especially with kids and teenagers) is Dylan's Candy Bar, on Third Avenue at 60th Street (accessible by subway). The Candy Café and its ice cream sundaes are not to be missed. Other favorite spots are walking through Central Park and visiting FAO Schwarz, the oldest toy store in the U.S. If you would like to experience something more cultural, there are so many museums and art galleries in the city. Take time to do a little research up front to find out which one interests you. It never hurts to browse the internet for information about free admission days, especially in the bigger cities. Also, if you know you are planning to visit a city in the future, you can sign up for several of the daily deal web sites, and receive emails with discounts that might include one of the attractions you are planning to visit.
Some would argue that the best part of the city is the
shopping and dining
. I highly recommend using Trip Advisor to help narrow down some choices of restaurants that are centrally located to the part of the city you are visiting. The reviews are honest and very informative. Word of mouth from friends and family is always good as well. The shopping options are also too numerous to mention, but again, if you do some research ahead of time your time in the city will be well spent.
---