National Parks - Ideas and Resources to Plan Your Next National Park Adventure

This post was updated January 2018
​

Imagine being on a boat in the middle of the deepest lake in the United States, knowing that you are really in the middle of a caldera formed when a volcano collapsed over 7700 years ago. Picture yourself hiking while staring at an azure blue sky, surrounded by pine trees and strange shaped rock formations rising out of the ground. Or consider standing on a field that once saw one of the most important battles of the Civil War. These images are just a tiny glimpse of what you can experience during one of the many US National Park vacations. Whether it's caves, gigantic trees, tide pools, or 50 foot tall carvings of presidents, the park system is so diverse there truly is something for kids of all ages. In some cases, you don't even have to travel far from home to experience the beauty and/or history that makes tourists visit from all over the world. Certainly when we think of National Parks, we all think of the Grand Canyon, Yosemite National Park or maybe the Washington Monument in DC. However, there are some people who will tell you they prefer visiting Canyonlands National Park in Utah rather than the Grand Canyon, or who know that the Channel Islands off the coast of California provide a unique diving opportunity that is highly ranked among scuba divers. The point is that every family should take at least one national park road trip vacation to places that fit with your family's lifestyle and budget.

​

---

---
​Many of the parks are within easy driving distance of each other so it's simple to put together a national park road trip itinerary. I've also included a list of related posts, where you can find more detailed information, along with
Get Up and Go Itineraries
to make planning easier.
​The Southwest Tour,
Utah
.
This loop covers some of the most scenic parks the Southwest has to offer. These include
Arches
,
Canyonlands
,
Capitol Reef
,
Bryce Canyon
and
Zion National Park
.
VisitUtah.com
is a great resource for finding all the information you need to plan an amazing family trip. The website also lists itineraries, so it is a great place to start the planning process. You can begin and end in Salt Lake City, making a loop that will cover all these unique parks.
Moab
is the perfect base location to explore both Arches and Canyonlands. Bryce Canyon, a personal favorite, has many wonderful family-friendly trails along with one of the best
Night Sky
programs in the country.
Zion's
options range from family-friendly horseback riding and morning walks along the Virgin River, to strenuous hikes in the
Narrows
. Canyonlands provides
Discovery Packs
that can be checked-out for kids, while Capitol Reef offers a
Junior Geologist Program
over the summer months, along with a
Family Fun Pack
you can borrow. These parks are some of the most unique in terms of formations, whether it is the unearthly "hoodoos" in Bryce Canyon or the amazing arched landscape in Arches. The drive between these parks is very manageable and you can take as much time as you need.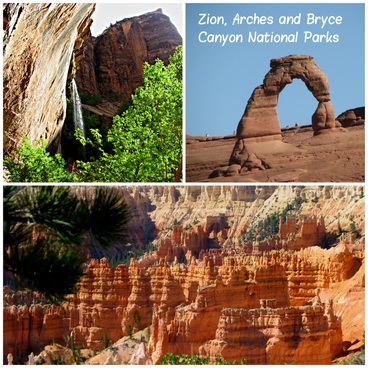 Lake Powell and the Grand Canyon
, Utah/Arizona.
Many travelers will combine these destinations with the Southwest Tour above, although there is certainly plenty to do at just the
Grand Canyon
and
Lake Powell
. After seeing the beautiful Lake Powell shoreline from a tour boat, I think that
renting a houseboat
should be on your family travel bucket list. At the Grand Canyon, take the time to visit the less popular North Rim in addition to the South Rim (this is easier if are combining your visit with Lake Powell and traveling from the north). Each rim offers a different perspective of this glorious natural wonder. You can easily fly in and out of Las Vegas and rent a car for traveling to these parks.
Yellowstone and the Grand Tetons,
Wyoming
.
Every family should make a point to visit
Yellowstone
if for no other reason than it was America's First National Park. The famous geysers of Yellowstone can be enjoyed throughout the year, but many of the park roads are closed in winter. During the warmer months, fly into Billings, Montana, and drive the scenic
Beartooth Highway
, which has been designated as "A National Scenic Byways All-American Road." Kids will enjoy visiting nearby
Cody, Wyoming
, known as the "Rodeo Capital of the World" and the home of the
Buffalo Bill Center of the West
. In
Grand Tetons National Park
, you can enjoy a float trip down the Snake River, or take one of several scenic drives through the park. Throw in a few days at a
Dude Ranch
for a memorable family experience. You could also begin your road trip in Salt Lake City, and head north.
​
Yosemite, Sequoia and Kings Canyon and the Channel Islands National Park
, California.
This was one of our more recent family road trips, and each one of these parks had something unique to offer. We combined this trip with fun activities in Los Angeles and San Francisco, along with a drive south along the Pacific Coast Highway, for a vacation that truly had something for everyone. The
Channel Islands
, home to 145 plant and animal species found nowhere else in the world, offers kayaking along with world-class snorkeling and scuba diving. In
Sequoia
, kids will be amazed by the towering trees in the Giant Forest, including the
General Sherman Tree
, the largest living tree in the world. Since Sequoia and
Kings Canyon
are adjacent, you can easily visit both parks within a few days. Many people are put off by the narrow drive on Highway 180 into Kings Canyon (the "Kings Canyon Scenic Highway"), but it is well worth the time. The views are unbelievable, and the family-friendly hike through Zumwalt Meadow is spectacular. Visitors will also see two granite domes, North Dome and Grand Sentinel, rising from the canyon floor. From Kings Canyon, travel north to
Yosemite
, where you can easily spend 3 or 4 days enjoying hiking, camping, fishing, and ranger programs. Kids can take a horse-drawn carriage ride at the
Pioneer Yosemite History Center
. Be sure you have booked your lodging well in advance, as accommodations fill up quickly at this popular park.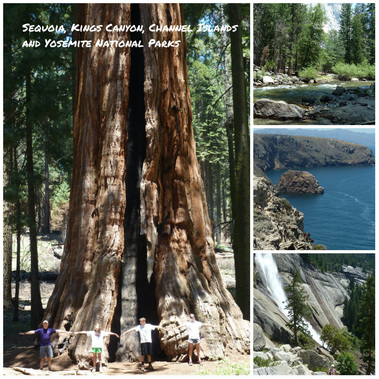 Mount Rainier, Mount St. Helens National Volcanic Monument, and Olympic National Park, Washington
. Seattle is the place to start this amazing road trip loop. Take the
Edmonds Kingston Ferry
to the diverse
Olympic National Park
, where you can visit the ​
Hoh Rain Forest
and enjoy the natural beauty of
Kalaloch and Ruby Beach
. Follow Highway 101 around the Olympic Peninsula as you travel to
Mount St. Helens
, which is designated a National Volcanic Monument. Be sure to visit Johnston Ridge Observatory, which is open May through October. From there, head to breathtaking
Mount Rainier
. If you can, enter from the eastern side of the park to follow the sunrise. Otherwise, it may take all day for the "mountain to come out" of the clouds. On your way back to Seattle, make a stop at the
Nisqually Living History Museum
, the site of the first European settlement on Puget Sound.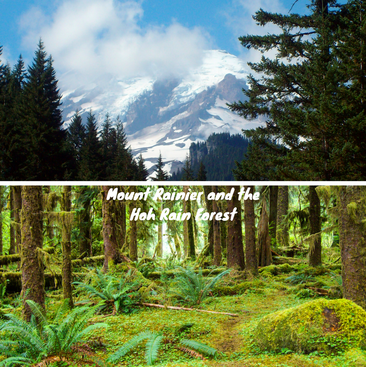 Washington, DC and Virginia. Start by visiting the National Mall, home to many iconic outdoor memorials. These include the Washington Monument, along with the Lincoln, Jefferson, World War II and Martin Luther King, Jr memorials, just to name a few. Take a National Mall tour with
Free Tours by Foot
or try one of the many National Park Service
ranger-guided walks
. Don't forget about places like
Ford's Theater National Historic Site
, which is a few blocks off the National Mall. For a different perspective, try one of the nighttime tours of the monuments.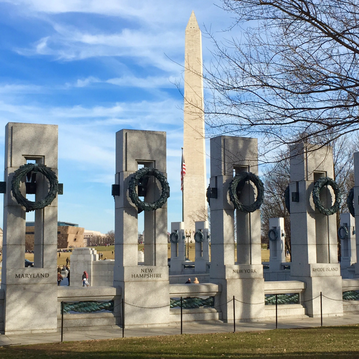 Just outside of DC, you'll find three of my local favorites, Theodore Roosevelt Island, Wolf Trap National Park for the Performing Arts and Great Falls Park. Roosevelt Island has both a Junior Ranger and a TRACK Trails program for kids. Experience an outdoor concert on the lawn at Wolf Trap, which is the only national park that is dedicated to the performing arts. View the natural beauty of Great Falls with easy access to viewing points from the Visitor Center. Continue heading west to Shenandoah National Park, a local favorite for hiking, camping and stunning views.
​
Tips & Resources.
If you are looking for some extra help in planning your visit to one of America's beautiful National Parks, here are some tips and other ideas that might help.
Use the "Find a Park" link to search any state in the country to find all the national parks within that state. The information also includes listings for the National Register of Historic Places, and statistics about yearly visitors to each park. The website also includes games and activities to get your children involved before or after you go on a trip.
If you want to stay in the more popular parks, you should book your accommodations as far ahead of time as you can (often bookings are accepted as much as a year ahead). Also, keep in mind there are often lower cost accommodations available in most parks, such as camping and cabin rentals, along with the traditional Lodge choices. Kids will have fun with the Junior Ranger Program, so don't forget to pick up this information when you arrive at a park. It's a great way to keep them interested, especially when they are looking at things like petrified wood!
If you are going to be traveling to several parks in one visit, consider purchasing the Annual Pass, which is valid for twelve months from the month that you purchased. To maximize your purchase, you can always use the pass as an opportunity to explore some new places in your home town during the next year after you return.
Take advantage of the Fee-Free Entrance Days by saving the list of at the top of this page. Unfortunately, in 2018 the number has been reduced to only 4 free entrance days. If you have a 4th grader in the family, sign up for the Every Kid in a Park pass, which will provide free admission for the 2017-2018 school year (currently expiring August 31, 2018).
The National Park Service website is a wonderful resource to help you plan in advance. You can determine which activities such as hiking, ranger-guided tours, or other tours are best suited for your family and whether ticket purchases are required. The on-line park newspapers often have detailed maps and hiking guides. Also, they usually have important information about closings or construction that may impact your visit.
Start planning your next great family adventure today!
Related National Park Posts:
Pin for Later